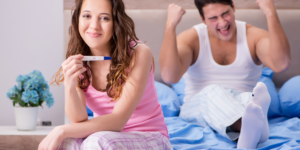 Pregnant?  Find out what to expect.
Congratulations!  Great news!  Do you remember how you felt the moment you found out you were pregnant?  Did the news bring you overwhelming joy at the idea of building your family?  Did you also have feelings of doubt or fear?  There is typically a wide range of emotions felt at this great life event.
It is important to explore all of your emotions, the joy, anxiety or even the fears you have throughout all the stages of your pregnancy.  At Life Balance Atlanta we have loved empowering women with the tools and knowledge to have the birth they envision and deserve!
Empowered pregnancy and birthing experience.
The first step to an empowered birth is to believe that you can have the birth you desire and envision.  Lisa uses the Mongan Method of HypnoBirthing, which introduces techniques that combine with your own natural instincts to produce the ideal birthing experience.   We believe a baby can be born through natural practices, and the mom can be mentally and emotionally present for the entire process.
What you will learn through Hypnobirthing:
Hypnobirthing will get you in touch with your mind and body.  Your mind and body are fully equipped with everything it needs for a successful and comfortable pregnancy and delivery.  Labor and giving birth can be likened to a marathon.  Like a marathon a birth requires practice, training, and the tools to be completed as planned.  HypnoBirthing at Life Balance Atlanta offers the set of tools to help you cross the finish line with ease.
Our classes are small so we can give personal attention as we go step-by-step through the courses with our moms and partners.  The program consists of five 2 1/2 hour classes that go into depth in the below areas:
Deep relaxation techniques during pregnancy and labor.
Special breathing practices.
Visualization practices.
Meditative training.
Nutritional education during pregnancy.
Positive body toning before and after pregnancy.
Hypnobirthing was developed by Marie Mongan, a woman who gave birth to two of her four children in the 50s and 60s without anesthesia, which was unheard of at the time. Her goal was that women should trust their bodies and their innate wisdom when giving birth, and to relax so that childbirth becomes a wonderful experience for both mother and child and not something to dread.
For additional information on the Mongan Method, please visit this link: https://hypnobirthing.com/marie-mongan-method/
Hypnobirthing advantages during and after pregnancy:
There are many advantages to having a fully informed birth experience.  Most women report a happier, less stressful, less painful and more enjoyable experience.
Here are a few great outcomes of a natural birth:
Fewer interventions and surgeries.
Decreases the use of narcotics and medications.
Shortens the 1st and 2nd phases of labor.
Fewer pre-term and low-weight babies.
Here are some benefits post labor and delivery with a natural birth:
Happier and more content mothers and babies.
Less postpartum depression reported in moms.
Infants showing higher than average APGAR scores.
When should I start hypnobirthing classes?
The best time to start your hypnobirthing classes is anytime after your 20 week mark.  This will give you plenty of time to get into a great mindset and practice the techniques.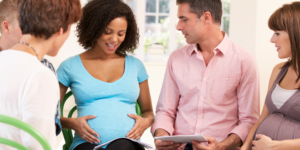 Where do I sign up for hypnobirthing?
You can click here to view our  sign up sheet and get all the details on our upcoming classes!  Our classes are held in person at our location in Cumming, GA (get directions):
Life Balance Atlanta
2450 Atlanta Highway, Suite 1702
Cumming, Georgia 30040.
If you have any questions about our program, please feel free to call us at (404) 374-5126.